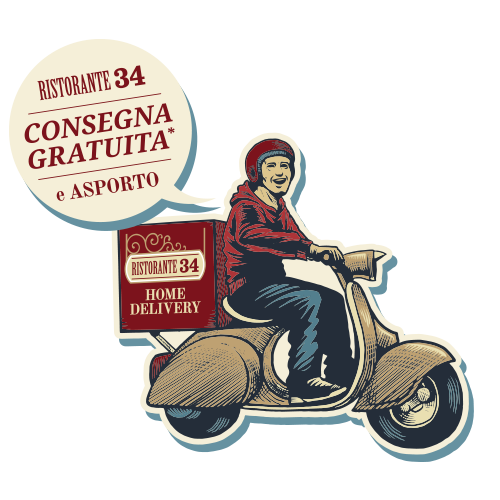 Home delivery service is now available too.
*Minimum order 40€
9/05/22
We will never, ever forget you....
Goodbye beloved Berni, forever in our hearts....
---
Ristorante al 34
All has started in 1968, in that year Mr. Walter Casalini sold the Hotel Internazionale, located on the Romagna Adriatic Coast "Milano Marittima", that he founded as a pioneer after the second world war. He then decided to move to Rome and founded the Restaurant Al 34, in the historical center of the city in Via Mario de Fiori.
Today the restaurant keeps running it's activity maintained by Maria Luisa and the son, Nicola, a creator of a lot of the dishes we offer. They maintain on the restaurant with great care and respecting traditions while also innovating.
Read more
Our specialities
Our cuisine can be described as traditional italian and roman but at the same time very creative. All this is owing to Nicola Casalini's genius mind and his constant attention of the owners to the client's satisfaction, always having a wide variety of dishes keeping always the high quality standards.
The policy of the Ristorante al 34 is the same since it's opening, we offer to the client the best at a reasonable price.In our menu you can find plenty of dishes to choose from...
Read more
Where we are
Dove siamo
Ristorante al 34
Via Mario de' Fiori 34, (P.zza di Spagna)
00187 Roma
Tel. +39 06 6795091
Fax +39 06 6786980
e-mail: ristorante34@yahoo.it